ça vient d'arriver aujourd'hui, j'ai pas encore écouté mais c'est assez prometteur

En tout cas c'est gratos alors pas de raison de se priver.
New project The Martyr, from Immortal Technique. The project 16 tracks long featuring Cornel West, Chuck D, Styles P, Dead Prez, Joell Ortiz, Brother Ali, Killer Mike, Vinnie Paz, Poison Pen, and more. Production by J. Dilla, DJ Green Lantern, Southpaw, Shuko, Slim Fass, Engineer and Immortal Technique.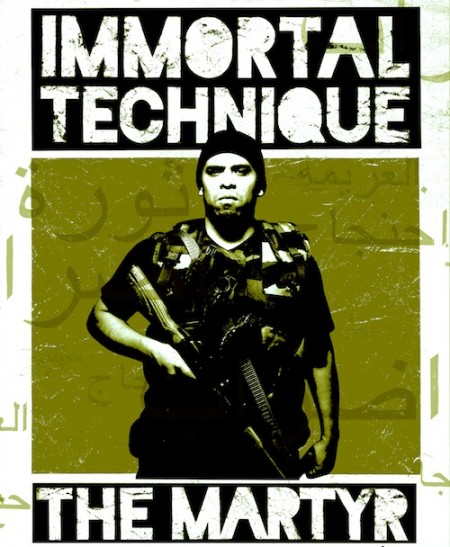 1. Burn This
2. The Martyr (Prod. Southpaw)
3. Angels & Demons f. dead prez (Prod DJ GreenLantern)
4. Rich Man's World (1%) (Prod. Shuko)
5. Toast to the Dead (Prod. J.Dilla)
6. Eyes in the Sky f. Mojo of Dujeous (Prod. Southpaw)
7. Goonies f. Diabolic, Swave Sevah & Gomez (Prod. Southpaw)
8. Natural Beauty f. Mela Machinko (Prod. Slimfass)
9. Running Nowhere (Interlude) (Prod. Southpaw)
11. Mark of The Beast f. Akir & Beast 1333 (Prod. The Molemen)
12. Black Vikings f. StylesP, Vinnie Paz & Poison Pen (Prod. Southpaw)
13. Conquerors (with Dr. John Henrik Clarke) (Prod. Engineer)
14. Young Lords f. Joell Ortiz, Pumpkinhead, CF & Panama Alba (Prod. Southpaw)
15. Ultimas Palabras (Prod. Immortal Technique and Southpaw)
16. Sign of the Times f. Cetan Wanbli, Lockjaw Nakai & Cornel West (Prod. Southpaw)
http://www.killerhiphop.com/immortal-technique-the-martyr-free-album/